Today is "Pour Your Heart Out". It's hosted by Shell at "Things I Can't Say." It's the first time I've joined this little group, but today I feel like I have some confessions to make. So, here goes...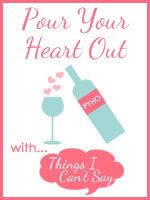 I'm at a standstill. My blog has stuttered to a complete stop. Noticed? Yep, I bet you have. I should feel horrible about this. Some tell me I should feel guilty, or not "up to par". Whatever. This is my blog. What and how often I post is up to me and me only. I know I "should" be posting Christmas treats and meals, but I just haven't. I haven't cooked an actual sit down meal for my family in days. And that last one was just a "what-do-we-have-in-the-kitchen" dinner.
If it makes you feel better, my blog isn't the only thing that has been neglected lately. But, such is life when Mom gets sick, kids have school projects, birthdays, and parties.
But, you know what? It's okay!! Yes, I'm a little worried that some of you might leave. I hope you don't.
Yes, I'm a little worried that someone will knock on my door and want to actually come in my house. And that my house is a mess. But, you know what? My kids are happy. That, right there, is what is most important.
So, I apologize for the lack of new recipes and posts. I don't know when my inspiration and motivation will come back. Hopefully soon! If not though, I hope you'll stick around.
In the meantime, if YOU would like to contribute a recipe, a kitchen tip, or idea, or just any home-related article, just contact me! I would be more then happy to feature YOU!
Thank you for your wonderful patience and your amazing support. I'll be back soon!